MY STORY: FROM 4'9" TO WORLD-RANKED
---
---
My purpose and passion in my career has been to help athletes achieve their goals and find their own personal greatness. I have worked with many Olympic and professional athletes, as well as top collegiate and junior athletes. I've written 15 books. I speak to group of athletes all over the world. I have a very fulfilling career and a darned good life. But it wasn't always like this.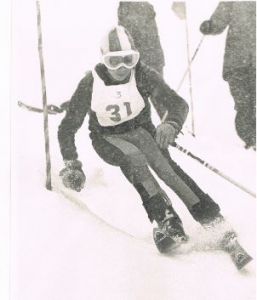 When I was 13 years old, I decided I wanted to be the best ski racer in the world. This statement was, to say the least, quite audacious given that, at the time, I was 4'9" tall and weighed 89 pounds and was living in Connecticut, a state not known for producing great ski racers. In pursuit of that goal, I enrolled at Burke Mountain Academy, a boarding school in Northern Vermont for aspiring ski racers that has, over the last 40 years, been a hot bed for developing U.S. Ski Team and Olympic athletes.
Even though I was skiing down hill, striving for my lofty goal was a decidedly uphill battle. The deck wasn't just stacked against me physically as I lacked the size and strength required for ski racing success. The odds were also against me mentally as I was my own worst enemy. I doubted my abilities and would get very nervous before races. I was also a classic underachiever; I didn't work hard in physical conditioning and I gave up easily. I was the one who could least afford anything less than my greatest effort.
But I had a few things going for me. I was a good athlete despite my size and I was smart, both of which enabled me to compensate for my lack of physical gifts with good technique and tactics.
My first few years at Burke were a real struggle as I was surrounded by bigger and more talented teammates who were stronger and faster than I was. But my biggest obstacle continued to be myself. I had no confidence in myself. At the first sign of difficulty or discomfort, I would give up. I had no chance of ever accomplishing anything as ski racer on the road that I was on. Then, three experiences changed my life forever.
The first experience was a massive failure. My goal when I was 17 was to qualify for the U.S. National Championships, a big goal to be sure. I worked as hard as I was capable of at that time to prepare to qualify, but I failed miserably and I was devastated, to say the least. Shortly after the race season, the one coach who actually believed in me—his name is Marty Heib—sat me down and said things to me that I didn't want to hear, but I knew were true: I was lazy, soft, and undisciplined. He told me that if I wanted to go anywhere in my ski racing I needed to make some changes.
Without realizing it, I had just taken the first step, followed by decades of top coaches and mentors, in developing my Prime Performance System which has become the framework for my career.
But my story was just beginning.
The second experience began when I arrived home for the summer, it was as if a switch in my brain had been flipped. Somewhere deep inside of me was a well of determination and drive that had, for some unknown reason, been squelched. And, as I began my summer conditioning program, all of the motivation came gushing out of me like Old Faithful.
From that moment on in my life, I have been a super motivated and driven. And it was from that moment that I really began to pursue my dream of ski racing greatness.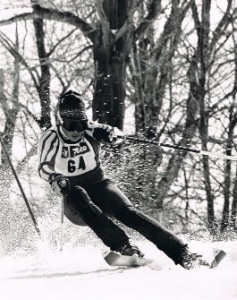 When I returned to Burke the following fall, the coaches saw that I was a different person. Where once I gave up when training got hard, they saw even more determination. Where once I was the last one on the hill and the first one off, they saw a complete turnaround. And the results started to come. I had my first breakthrough races on the national stage and rose to a top-40 national ranking by the end of the year. I wasn't even close to being the best, but I was a lot closer than I had been the previous year.
But one thing hadn't really changed; I was still my own worst enemy as a ski racer. Yes, I was more motivated than ever, but I still didn't really believe in myself and I still was getting in my own way. I knew I needed more guidance, but didn't know where to look for help.
The third experienced involved a bit of luck that led me down a road that shaped the rest of my ski racing career, professional path, and personal life. Back then, seeing a sport psychologist wasn't very common (though I sure needed one!), but I per chance found a summer course related to sport psychology that was offered at a local college. This class introduced me to many of the mental tools that are part of my Prime Performance System including confidence building, relaxation training, focus skills, and many others.
The final project of the class was to use mental imagery to improve an area of your life. I, of course, chose to apply imagery to my ski racing. I could never have known what an impact this project would have on my ski racing or on my life.
Let me describe how powerful my experience with imagery was. The previous season, I only finished about 25% of my races (far too low a rate to be successful) and was ranked, as I indicated earlier, about 40th in the nation. I was a mess mentally, believing before races that I would either not finish or be slow, being obsessed with results, and getting really nervous.
When I began the imagery project, I couldn't make it five gates in my imagery without falling. That showed how little confidence I had in my skiing. After several weeks, I was doing no better in my imagery. But then, with persistence and focus, I began to see a shift. With great effort, I was able to make it 10 gates, then half a course, then an entire course, then two runs without making a mistake or falling. As the summer concluded and I continued my imagery program into the fall, I found that skiing fast and finishing races in my imagery was getting easier.
When the winter began, I was a different racer mentally. I felt incredibly confident, relaxed, and focused. And the results showed that season. I finished 75% of my races, including 17 in a row, I was in the top 5 of every slalom except one, my national ranking rose into the top 20, and I qualified for the U.S. Ski Team.
Though my results were both startling and gratifying, what led to those results was the sea change I experienced mentally. Whereas in past years, I expected to fall, that season when I arrived at a race, I not only knew I was going to finish, I knew I was going to win. No, I didn't win all the time, but I did win for the first time since I was very young and I finished near the top more than ever before.
Ultimately, I didn't fulfill my dream of becoming the best ski racer in the world, but I made it farther than anyone expected me to, including myself. And I look back on my career with great satisfaction and pride, knowing I gave it everything I had, had some amazing experiences, and learned some essential life lessons. I have also continued to pursue athletic goals my entire life by earning a 2nd degree black belt in karate, becoming a sub-three-hour marathoner, and completing two Ironman triathlons.
Just as importantly, these experiences ignited what became my passion and purpose in life, namely, my work in performance psychology. And those same experiences became the foundation of my Prime Performance System which I am here to share with you.